Fires within a building cost insurance companies a fortune every year. With more and more buildings being built, this number is only ever going to increase. ISW Training want to make sure that people are more than adequately trained to be able to handle any type of situation caused by fires. It's extremely important to be able to react in a calm, collective and able manner when dealing with fires, especially when there's more than one person in a workplace.
This course is tailored to the needs of the prospective fire marshal. Our fire safety training courses in Somerset and the South West of England can be tailored to suit any specific audience and typically run for five to six hours. This fire safety training course will teach everything from basic fire safety awareness and how to apply this in the workplace to basic fire chemistry and the different classes.
Fire Safety Training Courses In Somerset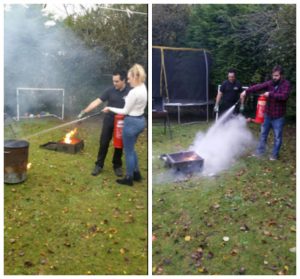 Fire Safety Training Course Outline:
Fire legislation
The basic chemistry of fire and its differing classes
Fire fighting procedures
Causes of fires and their prevention
Emergency lighting
Fixed fire fighting installations
Evacuation assembly point and fire drills
Fire alarms
Fire hazards
Routine fire safety inspections and maintaining a fire log
Risk assessment awareness
Extinguisher recognition and use (theory and practical)
This course complies with the Regulatory Reform (Fire Safety) Order 2005 and is also grant approved by the CITB.
Fire Marshal 5-6 hours: includes max 12 people extinguisher, £290 per day, £45 per person
If you are looking for fire safety training courses in Somerset and the South West of England, then call us directly on 07955 058877 or email info@iswtraining.co.uk