ISW Training are fully qualified and experienced for providing first aid training courses in Somerset and throughout the South West of England. We can deliver any individual or group flexible and quality training at a lower cost than larger national companies. This not only helps our customers save money on first aid training, but gives them a much more personal service by allowing them to tweak certain aspects of our first aid courses to their needs.
Ensuring that we present and teach our first aid training courses in an unique and personal way is key. We recognise that people can learn and retain new information better through using fun yet informative teaching methods. Our professional first aid trainers always use up to date equipment that is new and hygienic.
1 Day Emergency First Aid at Work Course
The Emergency First Aid at Work course can be adapted to suit a particular audience and is ideal for lower risk businesses, in line with the Health and Safety (First Aid) regulations 1981.
Course outline
First Aid Priorities
Managing Incidents
Basic Life Support
Examination of a Casualty
Unconsciousness
Control of Bleeding
Burns and Scalds
Regulations
First Aid Kits
Recording and Reporting
6 Hour Paediatrics First Aid Course
Who should attend
The course is designed for Nannies who wish to join the voluntary part of the Ofsted Childcare Register (OCR).
It is also suitable for Au Pairs, Babysitters, Parents, and anybody who cares for children and needs a basic paediatric first aid course.
Course outline
Planning for first aid emergencies
Dealing with emergencies
Resuscitating
Recognising and dealing with shock
Recognising and responding appropriately to:

Anaphylactic shock
Electric shock
Bleeding
Meningitis and other serious sudden illness
Responding appropriately to:

Burns and scalds
Choking
Suspected fractures
Head, neck and back injuries
Cases of poisoning
Foreign bodies in eyes, ears and noses
Eye injuries
Bites and stings
Effects of extreme heat and cold
Febrile convulsions
Recognising and responding appropriately to the emergency needs of chronic medical conditions including: epilepsy, asthma, sickle cell and diabetes
12 Hour Paediatrics First Aid Training Course
The course is designed for Childminders, Nursery and School staff (dealing with Early Years Foundation Stage), and anybody who interacts with children and wants an in-depth course. The course is in line with the Statutory Framework for the Early Years Foundation Stage (EYFS), Local Authority Approved and meets the requirements of Ofsted.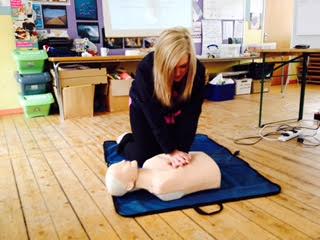 EFAW 1 Day First Aid Course: max 12 people, £250 per day, £45 per person
Pedantic First Aid 6 hour: 1 day max, 12 people, £250 per day, £45 per person
If you are looking for first aid training courses in Somerset and the South West of England, then call us directly on 07955 058877 or email info@iswtraining.co.uk